Lowers Risk Group Appoints Jon Groussman, Noted Authority on Crime Risk Management, Corporate Security and Loss Prevention, to Lead New Consulting Practice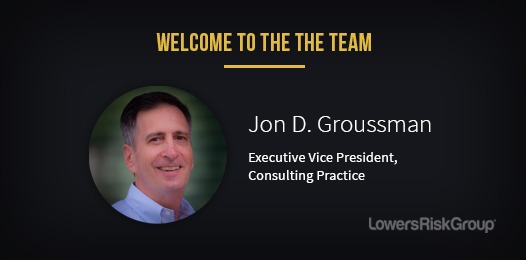 Former CAP Index President will serve as Executive Vice President to lead expert witness and security and liability consulting, evaluation and analysis for Lowers Risk Group.
Purcellville, VA – September 16, 2019 – Enterprise risk management company, Lowers Risk Group, today announces the appointment of Jon Groussman, an experienced and recognized authority on corporate security management, as Executive Vice President, Consulting Practice. In this role, Groussman will lead Lowers Risk Group's new consulting practice to provide a broad range of crime-related consulting, expert witness, and litigation support services for companies and their security and risk management leaders, and legal counsel.
Over the past two decades, Groussman has conducted thousands of site security assessments across several industries, and has consulted on more than 700 civil cases involving premises liability or inadequate security. He has also created educational programs for scores of companies and trade associations on crime-related topics, ranging from workplace violence and employment screening, to criminal incidence response.
Most recently, Mr. Groussman served as President and Chief Operating Officer of CAP Index, the nation's leading provider of crime risk data. His extensive professional background also includes positions as Vice President and Principal Consultant at Boston-based Liability Consultants; as a loss prevention investigator for two leading retail companies; as an internal affairs investigator for U.S. Department of Treasury; and as an investigator for the U.S. Department of Justice. He has also served as an adjunct professor at Northeastern University's College of Criminal Justice.
According to Mark Lowers, President and CEO of Lowers Risk Group, "Crime risk is much more than a balance sheet issue. It has a significant impact on public safety, brand reputation, customer loyalty, employee recruitment, and a company's overall valuation. We are happy to have Jon lead our efforts to assist organizations, not only to help them respond appropriately to negative events; but more importantly, to create the systems, protocols and internal culture necessary for them to reduce the likelihood and impact of criminal activity of all types."
Mr. Groussman holds a B.S. degree in Criminal Justice from Northeastern University, and a J.D. degree from Suffolk University Law School. He is a member of numerous professional organizations, and formerly served as Educational Program Chairman for the Boston Chapter of the American Society of Industrial Security (ASIS).  His work has been published in several respected industry journals, including Loss Prevention Magazine, Security Magazine, Security Director News and Security Management.
In addition, Mr. Groussman has presented more than 100 professional seminars and training programs on security-related topics for organizations including the American Banking Association (ABA), the National Retail Federation (NRF), the Loss Prevention Institute (LPI), the National Restaurant Association (NRA), the Risk and Insurance Management Society (RIMS), the Food Market Institute (FMI), and the Loss Prevention Research Council (LPRC).
To contact Jon Groussman at Lowers Risk Group, call (540) 338-7151.
To learn more about Lowers Risk Group visit lowersriskgroup.com.
Media Contact:
Michael Gaul
EVP, Marketing
Lowers Risk Group
mgaul@lowersriskgroup.com
(540) 338-7151