Lowers Forensics International Announces Exclusive Partnership with Infinilytics to Optimize the BI Claims Process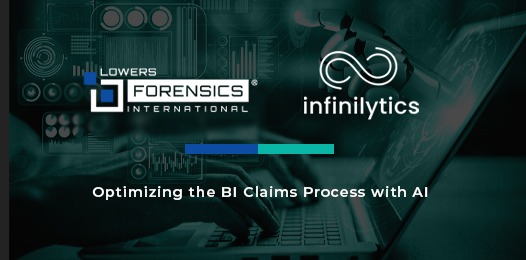 Lowers Forensics International will leverage its proprietary Stratis™ AI platform alongside Infinilytics' Insights Engine to streamline business interruption claims, accurately calculate claims, and identify litigation risks.
November 11, 2020 (Purcellville, VA) – Lowers Forensics International (LFI), a globally trusted forensic accounting and risk mitigation firm, has entered an exclusive partnership with Infinilytics, an enterprise AI and analytics provider for the insurance industry. Together, the organizations will combine AI-driven technologies to optimize the business interruption claims process for insurance companies.
Lowers Forensics International will offer its proprietary Stratis™ AI platform, which, combined with Infinilytics, will utilize machine learning and built-in algorithms to catch red flags and deliver insights prior to generating industry-leading accurate calculations verified by expert forensic accountants. Adaptable to any product line and any portfolio, LFI says Stratis is the most advanced claims accounting tool available in the industry.
Infinilytics offers an AI-based Charlee™ Suite of claims workflow automation and predictive analytics solutions leveraging unstructured data and documents. The claims workflow automation solution includes red flags, alerts, and recommendations that help streamline the business interruption claims process. The predictive analytics solution includes semantic search-based insights, KPIs, and high-risk patterns dashboard. Predictions include settlement, litigation, and cyber risk prediction score.
"We are honored and very excited to be partnered with Lowers Forensics International," said Sri Ramaswamy, founder and CEO of Infinilytics. "Charlee utilizes machine learning (ML), deep learning (DL), and natural language processing (NLP) to accurately predict settlement, if a claim will proceed into litigation and provides recommendations starting from the first notice of loss (FNOL) through the claim investigation to the final settlement," she continues.
The partnership between Lowers Forensics and Infinilytics combines LFI's Stratis and Infinilytics' Charlee to deliver exclusive insights, predictions, and unique benefits to insurance companies.
"In combination with our Stratis AI platform, our partnership with Infinilytics gives us the most robust and advanced business interruption technology stack of any forensic accounting firm in the industry," remarks Marc Johnson, president of Lowers Forensics International. "This will bring significant benefits to our clients as we help them bring claims to resolution quickly and accurately," he continues.
About Lowers Forensics International
Lowers Forensics International is a globally trusted financial forensics and risk mitigation firm that proudly operates under the Lowers Risk Group family of companies. The firm is internationally recognized for work across a broad range of issues, including insurance claims accounting, international investigations, litigation and disputes, intelligence and security, and anti-fraud. With the expertise of its people at the forefront, Lowers Forensics applies leading-edge technology to deliver precise insight and value to clients. When it really matters, organizations put Lowers Forensics on their side. Learn more at lowersforensics.com.
About Infinilytics
Infinilytics has created the Industry's first "AI based Insurance Insights Engine" Charlee™ to deliver patterns, insights and predictions from variety of sources within minutes. Insights Engine provides a deep and intuitive understanding of information from all types and sources both internal and external, structured or unstructured, using artificial intelligence and machine learning. Charlee currently has pre-built 3000+ insights for commercial and personal lines of insurance business pre-trained over 35M claims. These insights and predictions can be delivered through our Charlee web application or integrated into your workflow using our APIs. Learn more at www.infinilytics.com
Media Contact
Michael Gaul
EVP, Marketing
Lowers Risk Group
mgaul@lowersriskgroup.com
(540) 338-7151