Adjusteck Expands into Asia, Adds Philippines-Based TCS to Global Partner Network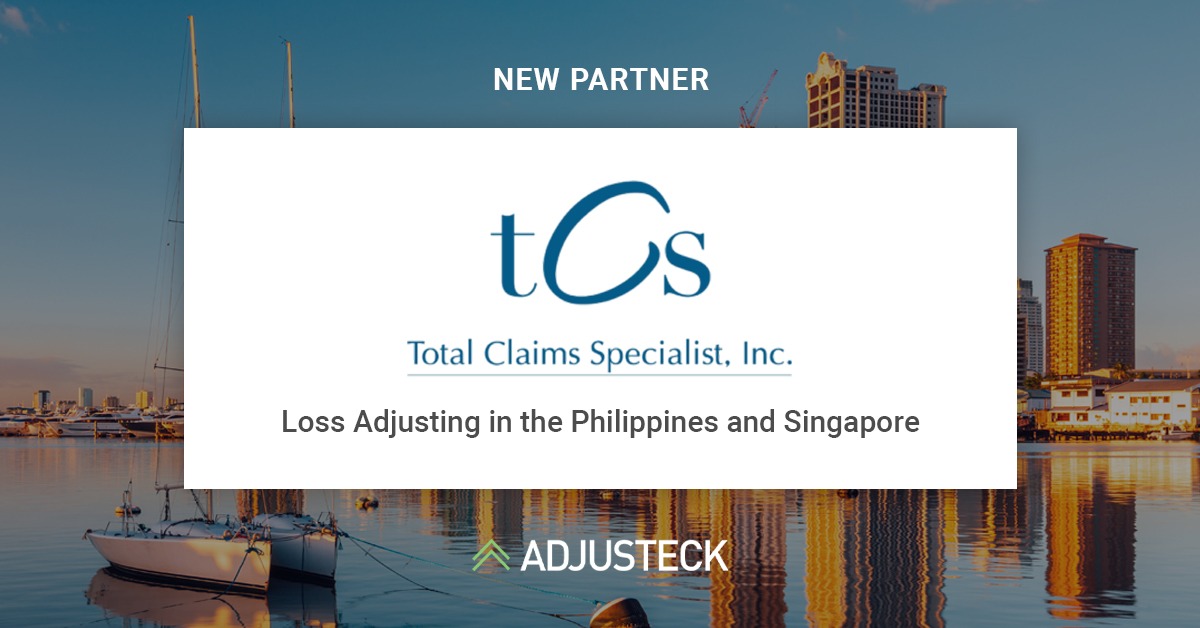 In joining the Global Partner Network, Total Claims Specialist (Asia) Pte. Ltd (TCS) brings Adjusteck clients local capacity and expertise in Singapore and in the Philippines. And by utilizing the TCS Asia wider network we now provide experienced, qualified claims handling capacity all throughout Asia.
LONDON – International loss adjusting and claims management firm Adjusteck LLC announced today that Philippines and Singapore based Total Claims Specialist (Asia) Pte. Ltd (TCS) is the latest firm to join its global partner network. Adjusteck is dedicated to helping insurers manage loss worldwide through its network of offices and partner locations.
Offering clients nearly 50 years of major and complex loss adjusting expertise in the Philippines, Singapore and globally, TCS is a professional organization of qualified independent insurance claim specialists with experience managing some of Asia's most significant insurance events.  TCS' portfolio includes Fire & Property, Marine, Engineering, Business Interruption, CAR, Power & Energy, and more.
"As we continue to expand our footprint and enhance our ability to serve the global insurance market with rapid, targeted responses and expert loss adjusting services, it is partners like TCS who help make it possible," said David Bosley, founder, managing director and senior Executive General Adjuster for Adjusteck. "They've built trust with their clients by leading with integrity, empathy and equity, and we're proud to partner with them to help provide our clients individualized post-event solutions in the Philippines and throughout Asia with their wider network."
Adjusteck emphasizes a technology-oriented, bespoke approach to loss adjusting and claims management, serving the global insurance and reinsurance markets with services backed by industry experts. Alongside deep subject-matter expertise, Adjusteck applies cutting-edge technology solutions, including geospatial and aerial surveys, virtual claims handling, and advanced claims management software to resolve claims with greater efficiency.
Founded in 2020 and part of the Lowers Risk Group family of companies, Adjusteck' s services include remote and field-based claims review and oversight in Casualty, Construction, Energy, Engineering, Cyber, Financial, Natural Resources, Property, and Specie.
To learn more about Adjusteck, visit adjusteck.com.
Media Contact
Michael Gaul
EVP, Marketing
Lowers Risk Group
mgaul@lowersriskgroup.com
+1 (540) 338-7151