Ricardo Braga Joins Lowers Forensics International in Sao Paulo, as Director of Brazil Operations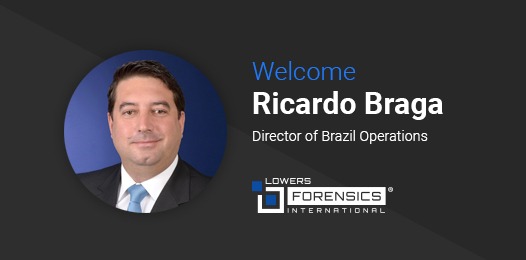 Financial forensics firm, Lowers Forensics International, taps Ricardo Braga to lead its operations in Brazil. From the company's Sao Paulo office, Braga will manage forensics assignments for business interruption, fraud, and special investigations.
March 19, 2020 (Purcellville, VA) — Lowers Forensics International, a globally-recognized financial forensics firm, announces the appointment of Ricardo Braga as Director of Brazil Operations. Ricardo joined us on February 12th, following more than 20 years of work experience in multinational industries, including Big Four consulting; Braga offers expertise in compliance projects, fraud investigations, internal audit, and internal control engagements.
Before joining Lowers Forensics International, Braga served as compliance and forensic manager at Deloitte Touche Tohmatsu Brazil, where he managed a wide range of forensic engagements, including direction of the closeout team, which was responsible for document and information discovery in a renowned mining-related disaster in Brazil.
At Lowers Forensics International, Braga will bring his expertise to bear on assignments including business interruption, fraud, and special investigations. He will lead the company's operations in Brazil, ensuring excellence in customer engagement and service delivery.
"We are incredibly pleased to offer the caliber of Ricardo's experience to meet the needs of our clients in Brazil," remarks Carlos Rivera, Director of Latin American Operations for Lowers Forensics International. "He is a results-oriented leader with the technical and analytical know-how we believe will lead to exceptional results for our clients and the organization at large," Rivera adds.
To reach Ricardo Braga call +55 11 99406 8896 or visit lowersforensics.com.
About Lowers Forensics International, LLC
Lowers Forensics International is a financial forensics firm offering expertise in insurance claims accounting, litigation support, investigative services, and expert testimony to support organizations worldwide. The company maintains offices across the globe to serve the needs of insurance companies, attorneys, and private and public entities in order to transform complex financial information into clear evidence.
For more information about Lowers Forensics International, visit lowersforensics.com.